To chevron_right

DISH Sues Former Reseller of Pirate IPTV Services SET TV and Simply-TV

news.movim.eu / TorrentFreak · Sunday, 11 October, 2020 - 12:30 · 3 minutes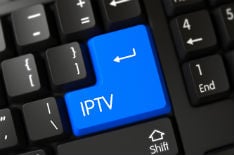 Back in 2018, broadcaster DISH Network sued pirate IPTV service SET TV for offering numerous TV channels that had been illegally obtained from DISH's satellite service.
In November 2018 that particular lawsuit came to end when SET TV's operators were ordered by a Florida court to pay $90 million in statutory damages . However, DISH wasn't convinced its work was done when it came to similar if not identical services still in operation.
DISH Targets Pirate IPTV Service Simply-TV
In March 2019, DISH and NagraStar filed another lawsuit in Florida, targeting several individuals and companies collectively doing business as Simply-TV, a $20 per month service which several users described as having many similarities to SET TV.
DISH complained that Simply-TV worked with SET TV-related entities that capture DISH content without permission, with Simply-TV also re-selling the service to others under their own brands and pricing structures. The Florida court quickly handed down a temporary restraining order and later in April, converted that to a comprehensive preliminary injunction .
In August 2019, DISH was awarded $30 million in statutory damages and an order that permanently enjoined the Simply-TV defendants "and anyone acting in active concert or participation" with them from "retransmitting or copying, or assisting others in retransmitting or copying, any of DISH's satellite or over-the-top Internet transmissions of television programming or any content contained therein."
DISH Sues Former SET TV and Simply-TV Reseller Lisa Crawford
According to yet another IPTV lawsuit filed in Florida, DISH is now continuing its battle against an individual it claims was not only a reseller of the SET TV service but also of Simply-TV.
DISH claims that an individual called Lisa Crawford along with business entities including LC One LLC, LC Pryme Enterprises LLC, LC Pryme Holdings LLC, LC Pryme One Enterprises LLC, and several others, ignored the orders of the Court in the previous cases by continuing to breach the broadcaster's rights.
Noting that Crawford initially acted as a reseller for SET TV, when that was shut down she began reselling Simply-TV packages. When that service was ended she moved on again by allegedly selling and supporting new pirate IPTV services including Prime Tyme TV, Lazer TV Streams, Griff TV, and Flix Streams.
"Just like the SET TV and Simply-TV pirate streaming services, the new Pirate IPTV Services being facilitated by Crawford and the Pirate IPTV Entities are, and have been retransmitting DISH programming received from DISH's satellite television service without authorization from DISH," the complaint reads.
DISH Demands Damages & Injunction Under the FCA
DISH's claims against Crawford, the LLCs, and the various IPTV brands are being actioned under the Federal Communications Act, specifically 47 U.S.C. § 605(a) and 47 U.S.C. § 605(e)(4) which relate to illegal reception/retransmission and selling devices that facilitate access to DISH's satellite programming.
In common with the lawsuits against SET TV and Simply-TV, DISH also demands a permanent injunction preventing Crawford and the various entities from illegally obtaining and distributing its television content, and manufacturing or selling configured devices and/or subscriptions.
DISH also seeks an order that will remove advertising and social media pages promoting Prime Tyme TV, Lazer TV Streams, Griff TV, and Flix Streams, and an order that will allow it to take control of any and all websites used to offer the services. DISH also wants access to all records relating to IPTV devices and subscription sales, including the details of those who purchased them.
In respect of damages, DISH demands up to $100,000 for each violation of 47 U.S.C. § 605(a) and up to $100,000 for each violation of 47 U.S.C. § 605(e)(4). As the earlier cases show, potential awards can easily reach tens of millions of dollars.
The full complaint can be found here (pdf)
From: TF , for the latest news on copyright battles, piracy and more.