To chevron_right

Hollywood, Netflix & Amazon Agree $40m Judgment With Pirate IPTV Provider Crystal Clear Media

news.movim.eu / TorrentFreak · Friday, 13 November, 2020 - 21:15 · 3 minutes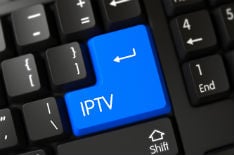 Back in August, members of the Alliance for Creativity and Entertainment (ACE), an anti-piracy coalition featuring the major Hollywood studios, Netflix, Amazon, and more than two dozen other companies, filed a lawsuit against US company TTKN Enterprises, LLC.
Better known online as IPTV service Crystal Clear Media (CCM), TTKN and owners Todd and Tori Smith of Florida were accused by Disney, Paramount, Amazon, Warner, Universal, Netflix, Columbia and StudioCanal of operating a pirate service providing access to thousands of live and title-curated television channels in breach of their copyrights.
"Blatantly Infringing Service"
Citing blockbusters including Disney's Frozen II, Warner Bros' Harry Potter collection, Columbia Picture's Bad Boys for Life, and Universal's Mr. Robot, the companies alleged that TTKN/CCM's operators had gone to great lengths to hide their roles in an operation that had illegally streamed these titles and more to the public. Domains including mediahosting.one, crystalcleariptv.com, ccmedia.one, ccbilling.org, cciptv.us, ccreborn.one, ccultimate.one, superstreamz.com, and webplayer.us, were mentioned as supporting the operation.
Describing CCM as a "blatantly infringing service", the entertainment companies noted that despite being acutely aware that rival service Vaders had previously come to an untimely end for similar actions at the hands of the same plaintiffs, CCM continued to provide an illegal VOD service to the public. Furthermore, the service also continued to expand its reach via a network of resellers.
"Defendants' reseller program plays a pivotal role in their infringing enterprise. Defendants' resellers market and promote CCM as a substitute for authorized and licensed distributors," the lawsuit claimed.
Alleging willful direct copyright infringement, the plaintiffs demanded the maximum statutory damages of $150,000 per infringed work plus the same amount per work as a result of CCM inducing others by "encouraging, and promoting" the use of CCM for copyright infringement purposes.
Parties Reach Settlement Agreement
While these kinds of cases have the potential to roll on for some time, it transpires the plaintiffs and TTKN/CCM plus named defendants Todd and Tori Smith have agreed to settle their dispute. The agreement was reached on November 2, 2020, and as a result, they are together asking the court to sign off on a judgment in favor of the plaintiffs, awarding a permanent injunction and damages.
In respect of the injunction, the defendants comprehensively agree not to distribute any copyrighted content owned by the plaintiffs or their subsidiaries in any manner, including via streaming. All operations of Crystal Clear Media must be completely shut down within five days of any injunction and its operators are barred from distributing or otherwise releasing any of its source code, domain names, trademarks and other assets.
"Defendants irrevocably and fully waive notice of entry of the Permanent Injunction, and understand and agree that violation of the Permanent Injunction will expose Defendant to all penalties provided by law, including contempt of Court," it reads.
"Defendants consent to the continuing jurisdiction of the Court for purposes of enforcement of the Permanent Injunction, and irrevocably and fully waive and relinquish any argument that venue or jurisdiction by this Court is improper or inconvenient."
Proposed Judgment Includes a Massive Damages Award
The original complaint included references to the now-defunct Vaders IPTV service that was also targeted by the same plaintiffs in a largely secret lawsuit in Canada. However, while the Vaders/Vader Streams matter ended in a $10 million damages award in favor of the studios, TTKN/CCM has agreed to pay substantially more than its former rival.
"Damages are awarded in favor of Plaintiffs and against Defendant TTKN Enterprises, LLC d/b/a Crystal Clear Media, in the total amount of forty million dollars ($40 million)," the proposed judgment reads.
While the proposed consent judgment and permanent injunction are yet to be signed off by Judge George H. Wu in a California court, the nature of the agreement means that is likely to be a formality in the days to come.
The proposed orders can be found here ( 1 , 2 , 3 pdf)
From: TF , for the latest news on copyright battles, piracy and more.