chevron_right

Google Drive gets a desperately needed "spam" folder for shared files

news.movim.eu / ArsTechnica · Friday, 12 May - 16:20 · 1 minute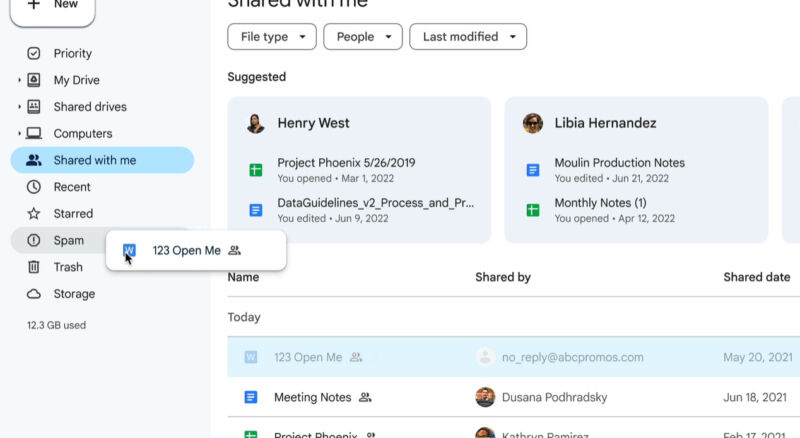 Fifteen years after launching Google Docs and Sheets with file sharing, Google is adding what sounds like adequate safety controls to the feature. Google Drive (the file repository interface that contains your Docs, Sheets, and Slides files) is finally getting a spam folder and algorithmic spam filters, just like Gmail has. It sounds like the update will provide a way to limit Drive's unbelievably insecure behavior of allowing random people to add files to your Drive account without your consent or control.
Because Google essentially turned Drive file-sharing into email, Google Drive needs every spam control that Gmail has. Anyone with your email address can "share" a file with you, and a ton of spammers already have your email address. Previously, Drive assumed that all shared files were legitimate and wanted, with the only "control" being "security by obscurity" and hoping no one else knew your email address.
Drive shows any shared files in your shared documents folder, notifies you of the share on your phone, highlights the "new recent file" at the top of the Drive interface, lists the file in searches, and sends you an email about it, all without any indication that you know the file sharer at all. For years, some people in my life have been inundated with shared Google Drive files containing porn, ads, dating site scams, and malware. For a long time, there was nothing you could do to support affected users other than disabling Drive notifications, telling them to ignore the highlighted porn ads at the top of their Drive account, and warning them to never click on the "shared files" folder. (Sorry, Mom.)