chevron_right

Pompeii tomb reveals formerly enslaved man's rise to wealth and power

news.movim.eu / ArsTechnica · Monday, 30 August, 2021 - 19:00 · 1 minute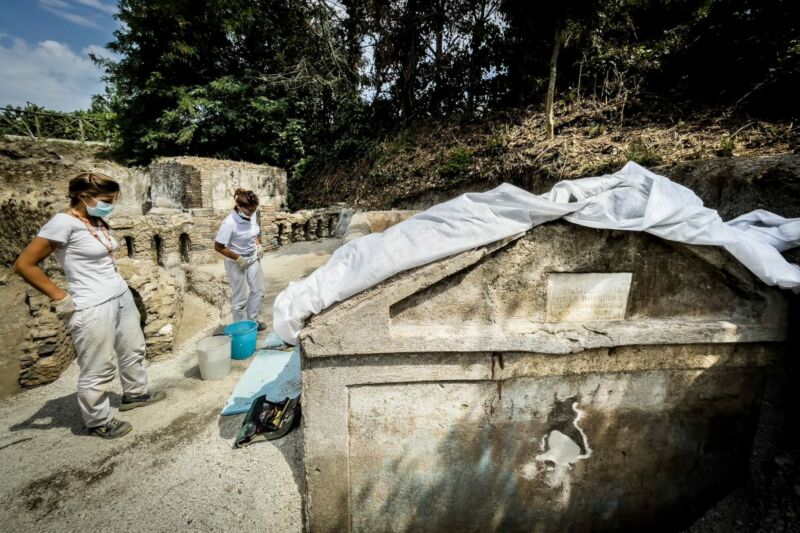 Archaeologists working in Pompeii recently unearthed the tomb and partially mummified remains of a man who died a few decades before the eruption. The man, Marcus Venerius Secundio, according to his epitaph, had once been enslaved, but by the end of his life he'd obtained enough wealth and status to sponsor four days of theater performances in Pompeii.
Rags to riches in Imperial Rome
Archaeologists rediscovered Marcus Venerius Secundio's tomb in the ancient cemetery, or necropolis, of Porta Sarno in the eastern part of Pompeii, where tourists aren't allowed. His tomb was large and imposing, with a colorfully painted facade depicting green plants on a blue background; traces of the paint still cling to the stone even after 2,000 years. It was also sealed so well that its occupant's remains had partially mummified, preserving some soft tissue and a few tufts of white hair, along with some scraps of fabric.
Because Pompeii is both amazingly well-preserved and extensively studied, archaeologists were able to match the name inscribed over the tomb's entrance to a name on wax tablets in the house of a banker named Lucius Caecilius Jucundus, across the city from the necropolis. The banker's tablets recorded Marcus as a "public slave" who worked as a custodian in the Temple of Venus, which once stood at the western end of town (that's almost certainly where the second part of his name, Venerius, comes from). But at some point he became a libertus, or freedman, and began to build a new life for himself.