chevron_right

Movim 0.22.1 is out!

Timothée Jaussoin · pubsub.movim.eu / Movim · Sunday, 9 July - 13:08 edit · 1 minute
A small #release but with a couple of performances improvements and bug fixes.
Confidentiality settings 🔒
The configuration page was reorganized and all the confidentiality setting are now grouped in one unique section.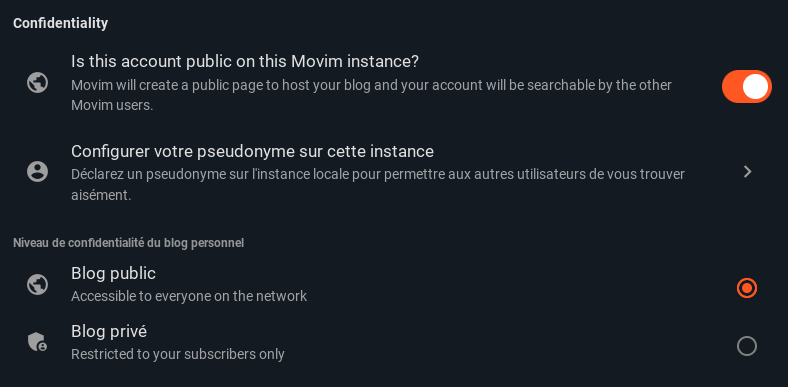 Linked to that, if you choose to keep your profile private, Movim is now completely disabling your public page, blog and links to your profile.
Fixes
RatchetPHP
Movim is relying on Ratchet to manage its Websockets. We moved to the fork maintained by Plesk that upgrated and is now maintaining the project. See the related ticket. This upgrade fixes the related code Warnings under PHP 8.2 as well.
Bookmarks 2 🔖
0.22 brought a refactor of the internal XMPP Pubsub related code. This change broke the #Bookmarks management. This version fixes it.
Video-conferencing fixes 📹
Movim has now some basic support of MSID in SDP (what does it means ?). This basically fixes video-conferencing between #Movim and Conversations.
Performances improvements 🚀
Maybe one of the most noticeable changes of this release are the two database related fixes that are bringing important #performances boosts (under certain conditions):
Some large chatrooms, with plenty of messages, were taking many seconds to load. This was caused by Movim trying to find the current room subject in the #database before displaying the room panel. The related query was rewritten to reduce considerably its execution time.
The unread messages counter database query, that was known to be one of the slowest part of Movim, was also rewritten to divide by 2 its execution time. On top of that a new index was added to boost even more its performances. This should greatly improve the chat conversations and page load time on large accounts.
And finally, some pictures, avatars and icons are now loaded lazily. This means that your phone or browser will not load them before they are actively displayed on your screen. This greatly reduce the server load and page display time.
Enjoy