To chevron_right

Pirate IPTV Reseller Agrees to Pay $30m in Damages and Puts Users At Risk

news.movim.eu / TorrentFreak · Friday, 23 October, 2020 - 16:46 · 3 minutes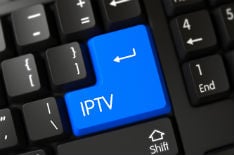 In 2018, US broadcaster DISH Network sued pirate IPTV service SET TV for offering many TV channels illegally obtained from DISH's satellite service.
That lawsuit came to an end in 2018 when SET TV's operators were ordered by a Florida court to pay $90 million in statutory damages. However, as far as DISH was concerned, there were more loose ends to tie up.
DISH Sues Simply-TV and Goes After a Reseller
Early 2019, DISH filed another lawsuit in Florida, this time targeting individuals and companies behind Simply-TV, a pirate IPTV service that was believed to be connected to SET TV. By August that same year, the lawsuit was over after DISH was awarded $30 million in statutory damages plus an injunction.
As recently reported , DISH still didn't give up the chase, suing an individual named as Lisa Crawford in a Florida court, claiming she was a reseller of both SET TV and Simply-TV. Several business entities were also named as defendants.
These cases have a tendency to drag on but in this case, the whole thing was settled in a matter of weeks.
Agreed Judgment and Permanent Injunction
On Thursday, DISH filed a notice of dismissal against the business entities named in the original complaint including LC One LLC, LC Pryme Enterprises LLC, LC Pryme Holdings LLC, LC Pryme One Enterprises LLC.
"This Notice of Dismissal is filed pursuant to the Confidential Settlement Agreement reached between DISH and Defendant Lisa Crawford," the notice reads.
A short time later, DISH filed documents relating to the agreement, establishing several agreed facts and laying out the terms of the settlement.
"Defendant sold device codes and subscriptions to the Unauthorized Streaming Services through various websites including ptiptv.com, GriffTV.com, Lazertvstreams.com and FlixStreams.com. In addition, Defendant advertised the Unauthorized Streaming Services through Facebook and other forms of social media," the filing reads.
"Defendant participated in the operation of the Unauthorized Streaming Services after the Set TV service was shut down. DISH Programming was redistributed without authorization on the Unauthorized Streaming Services throughout this time period.
"During that time Defendant trafficked in at least 40,000 device codes to the Unauthorized Streaming Services."
Defendant Agrees to Pay DISH $30 Million in Statutory Damages
According to the agreement, the sale of the 40,000 "device codes" (subscriptions) will cost Crawford a huge amount of money. DISH says that each subscription is worth $750 in statutory damages, meaning that the total amount payable to the company is a cool $30 million. That being said, things could have been very much worse if DISH had pursued the $100,000 per offense/subscription maximum.
In addition to the damages agreement, the parties have also settled on a set of conditions for an injunction, including that Crawford never again gets involved in offering pirated DISH programming to the public. She is also barred from operating the websites ptiptv.com, GriffTV.com, Lazertvstreams.com and FlixStreams.com, which must be transferred to DISH.
Former Customers May Be at Risk
Part of the agreement requires Crawford to hand over pretty much everything associated with her reselling business over to DISH, including all computers, servers, receivers, software, and set-top devices. The agreement also goes much further than that though and may have consequences for Crawford's former customers.
"Defendant shall transfer to DISH or a designee selected by DISH, within seven (7) days of the date of this Order, all device codes, renewal codes, subscriptions and applications for Defendant's Pirate Streaming Services, as well as all computers, phones, servers and all social media, financial, online or other accounts associated in any way with Defendant's Pirate Streaming Services," the agreement reads.
This includes "books, documents, files, records, or communications whether in hard copy or electronic form, relating in any way to Defendant's Pirate Streaming Services" plus "the identities of manufacturers, exporters, importers, dealers, or purchasers of such services and devices.."
This is important because DISH has a history of not only shutting down pirate services but also chasing down former subscribers for cash settlements. Whether it will do so in this case is yet to be seen but after shutting down a seller of satellite card-sharing codes a while back, the company has used the data handed over in the matter to pursue many other individuals.
The Agreed Judgment and Permanent Injunction is available here (pdf). It is yet to be signed off by the court but given its nature, that's likely to be a formality.
From: TF , for the latest news on copyright battles, piracy and more.